Posted by
admin
on Apr 3, 2012 in
Genealogy
|
0 comments
The Lagesse Family Name in Mauritius
A numerous family today in Mauritius and with members scattered in various parts of the world, the Mauritius branch of the Lagesse family are all descended from Antoine Lagesse, originally from Troyes, in Champagne, France. According to the Dictionary of Mauritian Biography, Antoine was born in 1733 and enlisted at Brittany in the Bombardier company of the Isle of France legion in 1766. He arrived in Mauritius in August 1767 and was employed in the armoury. After a serious illness he was given a pension of 600 livres [French pounds] a year. He was by now a family man, having married Marie Catherine Fleuriot in 1774. Together they had 7 children, thus founding the Lagesse dynasty on the island.
Antoine purchased land at Rivière Sèche, in the region of Flacq, and by the time of his death in 1798 possessed a large estate there where he cultivated crops, raised livestock, and distilled cane liquor known as arrack. The estate employed 117 slaves and was effectively self-sufficient, with its own carpentry workshop and blacksmith's forge.
Like many prominent French families, the Lagesses have researched their ancestry and have produced an attractive publication about Antoine, his life and descendants. Included is a re-creation of the family residence in Flacq, by Pierre Lagesse, based on the detailed notarial records drawn up at the time of Antoine's death. It offers a fascinating glimpse of the lost world of the 18th century French settlers in Mauritius: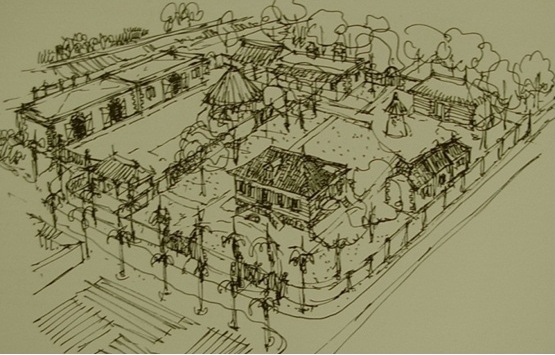 Recreation of Antoine's Flacq residence, by Pierre Lagesse
When Antoine died he was buried in the local cemetery of St Julien, Flacq, a picturesque location and one steeped in history. The tombstone of Antoine which lies alongside that of his wife, beautifully engraved, can still be seen today: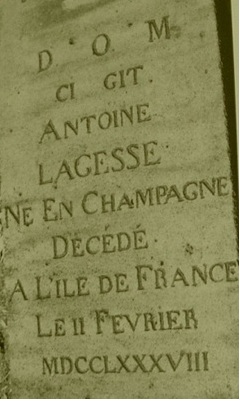 Tombstone of Antoine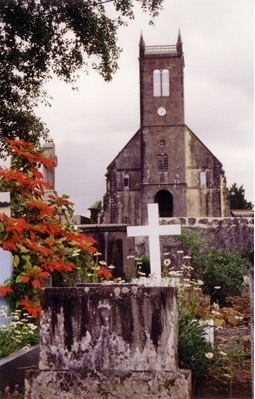 St Julien church, Flacq
Among the descendants on Mauritius are many illustrious figures. We may mention here the recently deceased Marcelle Lagesse, author of numerous works of fiction and non-fiction whose imagination and sense of history have enriched the lives of all who seek to understand the fascinating past and rich present of the complex and fascinating island of Mauritius.
—————————————————————————————————————————————————————–
Text © mauritiusmag.com
Sources: Antoine Lagesse 1733-1798 et ses Descendants à l'isle de France, MSM, 1998
Dictionnaire de Biographie Mauricienne, pp 1459-60