Posted by
admin
on Oct 6, 2011 in
History
|
7 comments
An eye witness account of the 1968 riot
Plaine Verte is a suburb of the capital of Mauritius. Until 1968, it was home to a heterogenous community of Muslims and Christians. This closely intertwined community of two ethnic/religious groups who co-existed for over a century found itself at the centre of the riots which took place in that year. Shawkat Ally Gozeer was very young at the time, but provided the following account of what he witnessed to the late Norbert Benoit.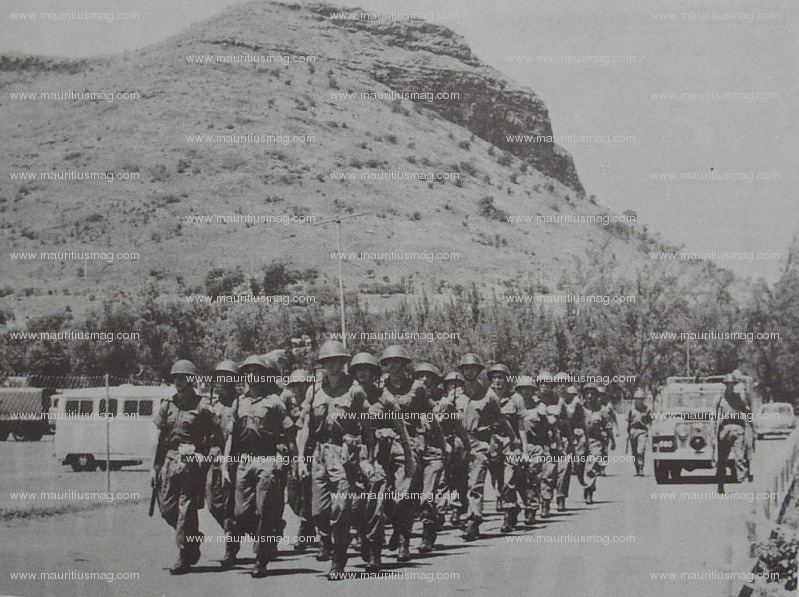 I recall being outside on the balcony with the family one day, the atmosphere was tense. We heard that there was a scuffle at the Venus cinema. This is how it all began …
People believed at the time that this tense atmosphere had been instigated by some people; but the reason behind it is not very clear. What I know is that there was a division in the Muslim community regarding politics. To this day it has never been ascertained how it started – people would rather forget about it. No one is interested to know, not because it is not important, but rather because of the fear that it might engender.
We have heard that a riot had broken out. We saw fire burning in the distance. There was smoke everywhere. As tension escalates, one person dies, then two… then things take a turn for the worse; people got together in groups. I saw the Muslim side of events, as I was living in Plaine Verte; I lived through it, I lived the fear itself.
After the riots, some Muslims who did not live in the Plaine Verte region before came to live there. Not all at once just a few. We did not notice it at the time. The atmosphere remained tense but we did not have any more riots. However, when people learnt that some Christians had killed a Muslim, people here would kill a Christian. That is how it went on; then the violence increased.
I did not go to school, the school closed down, I believe. Plaine Verte was dead. We did not go very often to the market. My father did not even travel for his work. How long did this last? It seemed a long time. One week? Two weeks? It was through people who came to my place that I knew there was a rioting. They fled their homes, as their homes were at the foot of the mountain. They all believed that the Christians would come that way. As a result people believed that those who lived in close promixity to the mountain would be the first victims. People came and went. How long did it last? I do not know, but their presence in my place symbolised something.
There were many wooden houses at that time, and that our house was in concrete. People came to our place because they felt secure in a concrete house. People wanted to gather together. Especially the women and young girls, because the men were going out to fight. They were afraid, very afraid. In day time they would go back home to eat then before nightfall they would come back to our place, to sleep. There were days when they even stayed the whole day at our place. Some days we ate together. Other days they brought food to eat, then we shared amongst ourselves. There were forty to fifty people at our place. Each person brought his blanket and pillow. They slept in our living room and the verandah. We moved some furniture and put them at the back of the house. It was a change, an upheaval. For example, there were people who we did not like but who were here in our place, who had free access and we had to accept it.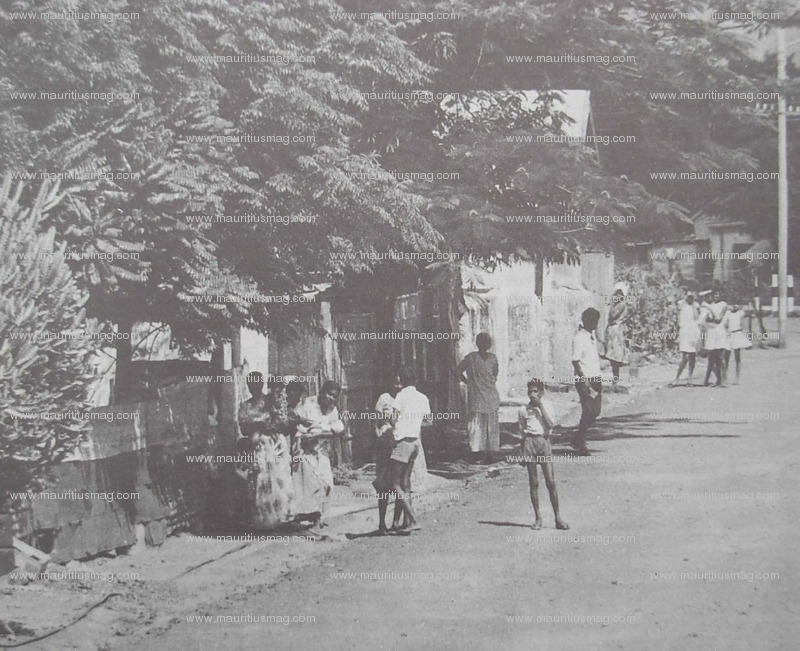 People came after the "namaz magrib". At times they would perform the "namaz e-sa" at the house. Afterwards my father would ask for tea to be made in a large bowl, and served everybody present. Some men went through the house to access the top of our garage, as they could have a good view, far and wide, from up there. From there they kept a look-out with their weapons. They took turns for the look-out; three stayed on top of the garage, while three others would go out to the 'English canal'. However the Christians did not come through the 'canal anglais'. They did come but not all the way to the 'canal anglais'. They were just rumours. During those nights we were all afraid. Some were praying; the majority of us were women and children. They were praying and weeping. Some women feared their husbands would not come back. Fortunately no one we knew was killed, but some in the group were sent in prison. They spent three years in jail after the riots, because they were arrested for carrying sabres. Following their arrest, weapons were also found at their homes. In certain cases, my father had to help while they were in prison.
Some men came back at one o'clock in the morning, others at two o'clock in the morning. Personally I was not that afraid of Christians; I was afraid for those who were going to fight. Among them there were youths of fourteen to fifteen years of age. Among those who left there were heads of families. We were insulted because we did not go to fight. My father did not want it.  The children who went out to fight were afraid. However when they heard that a Muslim had been killed somewhere else, it was different, they wanted to make sure that a Christian was also killed. But at my place, they were praying a lot; they did the 'taabi'. Some men wanted to commit suicide during the riots. Some left their wives and children at our place. The riots were then coming to an end, sometime before the British troups arrived and started to search the houses. Some men came early morning, very quietly. Some kept a lookout in front of the house. There was a house, the first after the mountain, which had two lights, one red and one green. The green one was always on, but if ever there was some news, if the Creoles were nearby, the red light would be switched on. Then all the men would go toward the 'English canal'.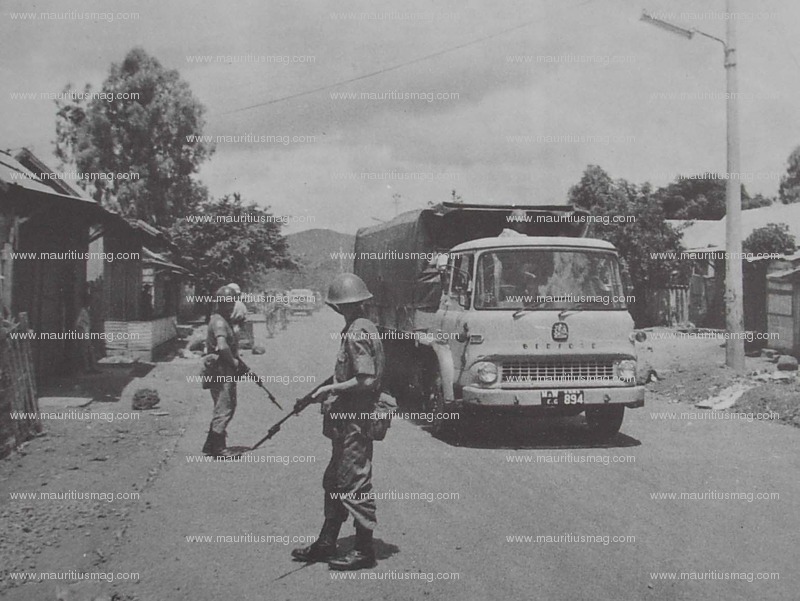 I recall being sat down on the flat roof of our garage. Some Christian neighbours dressed like Muslims, clothes given to them by Muslim friends. I remember three women and one child, who lived opposite us, wore their 'orni' and their 'tius', accompanied by four or five Muslims. The men were carrying baskets with Molotov cocktails and daggers.  There were people who we knew, but with whom we were afraid to talk lest they say we were hiding Creoles.
There were cases where a Muslim family would hide some Christian men, and not let the other Muslims know about it. When the British troops arrived, they searched all the houses. The Muslims began to dig holes in front of their houses to hide the sabres and other home-made weapons. The British used metal detectors and soon were able to find the weapons. Some houses were set on fire. One could see them in flames. Some people were carrying away tables and beds. They were burglars who saw an opportunity. Some men would remove the rubber sheathing off copper wire and then wrap it around the house to keep burglars away. If you touched it, you could be electrocuted. Those are things that I have seen.
The riots destroyed the area where I lived. The Cité Martial was no longer what it used to be. Once Muslims and Christians lived together there. Among the Christians there were 'understanding' people. The houses were beautiful, adorned with pots of flowers. The stucco was well-polished. One does not see this anymore. The people who moved in came from Roche Bois; they were Muslims who came only with the things they brought on their backs. They have changed this area a lot. In those houses there were people who worked and lived well. They were replaced by those who are destitute. The place has been transformed.
This scar has taken a long time to heal. The Muslims think that some people benefited from this scenario. They manipulated the situation, getting people to fight against their brothers. They are bad memories, which I personally would not like to relive.
******
THE BRITISH TROOPS WHO FLEW TO MAURITIUS IN 1968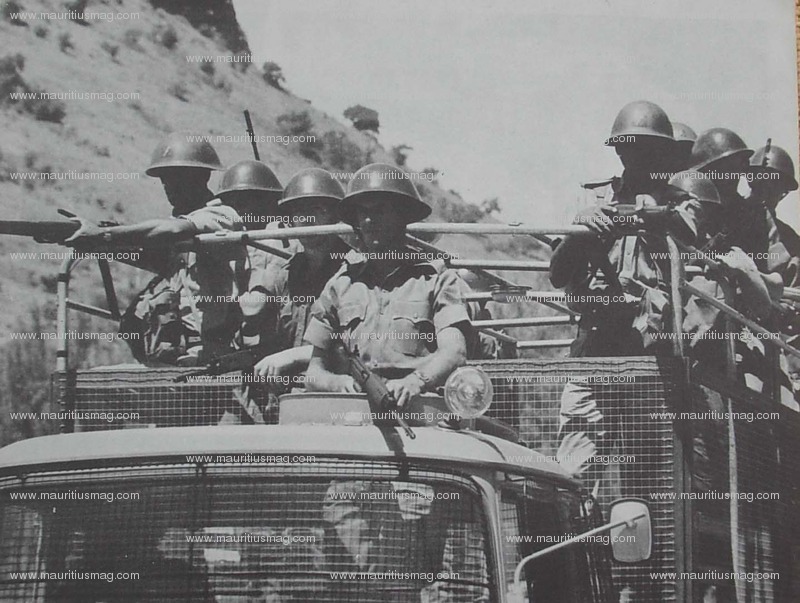 The British regiment which was called into action on Mauritius in 1968 was the King's Shropshire Light Infantry [KSLI], under the command of Major Brian Lowe. At the time, the regiment was stationed in Malaysia and were ordered without warning to leave for Mauritius. The following account was prepared within a few weeks of the riots, by Major L W Huelin of the KSLI.
The troops went by road to Singapore and from there in three Hercules aircraft to Mauritius.  The KSLI company went straight from the airport to the police barracks in the capital and immediately out on patrol. The soldiers worked in conjunction iwht the civil police and the island's Special Mobile Force to restore peace.  The SMF which had been established in 1960 was at this time led by Major Ward of the Argyll and Sutherland Highlanders, but the force under his command was composed of young Mauritian men.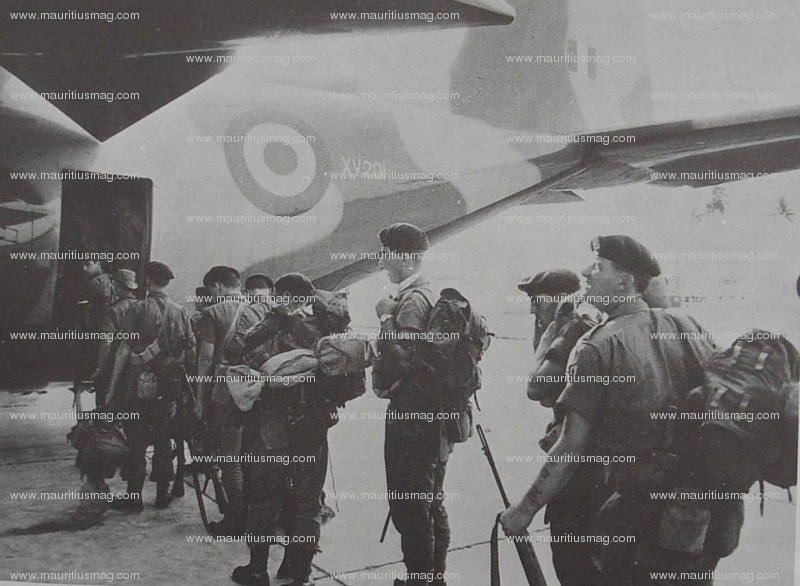 The army's perspective was that "blind hatred between Port Louis' 'Istanbul' Muslim gang and the rival 'Texas' Creole gang had led to a situation in which atrocious acts of violence were rife and many people were being killed and injured". However the trouble had not spread to other parts of the island, but was contained within the Port Louis area. After the 140 men of the KSLI hit the streets, it was reported that 'mob alarms' dwindled but that looting and burning of abandoned houses continued. The combined forces of law and order initiated "a non-stop series of cordon-and-search operations" during which dozens of arrests were made and quantities of "crudely-fashioned weapons, acid bombs and Molotov cocktails were unearthed".
Operations were directed from Port Louis police barracks by Commissioner Bernard McCaffery and as well as the KSLI troops, men from a British navy vessel HM Euryalus, were landed and placed in guard of the island's petrol storage depot. The KSLI deployed two Sioux helicopters and the navy now added a third.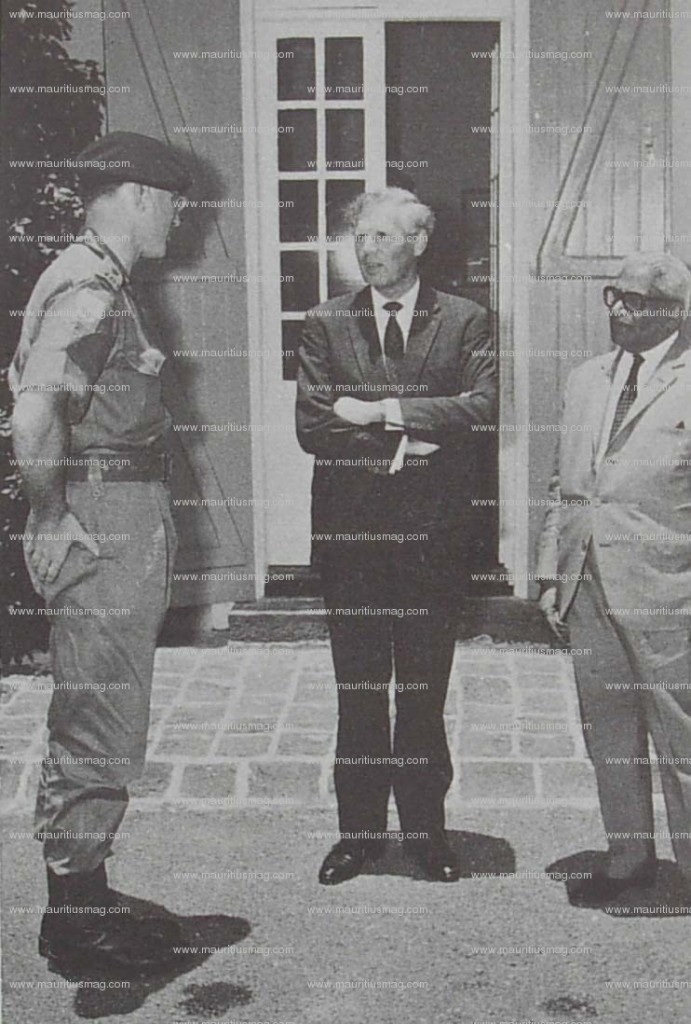 The British governor of the island, John Shaw Rennie, and the man then waiting to become Mauritius' first independent Prime Minister, Sir Seewoosagur Ramgoolam, welcomed the assistance of the British troops.
TWO COMMENTS FROM READERS
Sydney Selvon The riots started in the very month that I began my career in the media, at L'Express. I remember a crowd of armed people running towards our bus at the Vallijee bus stop and the bus had time to get away as they were still at a distance. I remember the intervention of the British troops and having to stop at military checkpoints in Port Louis during the night. Dr Philippe Forget, who was at the wheel of the car we were in, once thought a soldier was Mauritian. The two military men had their guns at our temples on each side of the car and it was a horrible feeling, their hands were on the trigger. Dr Forget made a joke in creole and the man just pushed his gun against his temple; he had an English accent. We showed our papers, they had a license to shoot and kill in case of any sign of resistance. Our papers were OK, of course, as journalists, but the feeling of having loaded guns near your temple and seeing the fingers on the trigger is awful. I was 19 and learning to be a journalist. Can't forget.
Every day we had reports of killings, horrible killings on both sides. I pray God this never happens again in Mauritius. The 1999 riots were nothing in comparison. In the media we all cooperated with the government and the police whatever our political angle, to help bring back peace and this eventually worked.
Raffick Mamodeally bonjour a tous, c'était une periode et une année que je n'oublierai jamais. J'avais 14 ans on habitait à la rue Wellington juste dans la descente qui va vers tranquebar. J'ai vu l'horreur devant moi, des voisins qui tuait d'autres voisins. ON VIVAIT dans la terreur, DANS LA PEUR; ça c'etait l'enfer. À cette époque là on pouvait rien faire pour entretenir l'ordre, alors il nous a fallu faire venir des soldats anglais pour nous aider. J'ai vu les policiers de l'ile courir à toute vitesse; les gens étaient armés avec des sabres, des couteaux et des armes qu'ils ont fabriqués chez eux. Chacun essaye à sa façon de protéger sa famille. Dans chaque communauté il y a des bons et des mauvais; on habitait parmis les chrétiens, des gens vraiment bien. Ils nous ont sauvés la vie, ça je ne l'oublierai jamais. J'ai aussi vu un chauffeur musulman faire marche arrière dans sa voiture, depuis l'église Sainte Anne, Tranquebar jusqu'à la rue Wellington; ils l'ont enlevé de sa voiture et ensuite ils l'ont battu à mort…
Did you take part in the riots as a British soldier, or do you have any recollections as a Mauritian on the island at that time? Please send us your comments and opinions either via facebook or directly to info@mauritiusmag.com
————————————————————————————————————————————————–