Posted by
admin
on Sep 9, 2011 in
People
|
0 comments
Anjalay Devi Coopen, also known as Anjalay Tassalam Twakaran, is a famous name in Mauritius because as a 48 year old pregnant labourer, she was shot by the police on 27 September, 1943, reportedly during a religious ceremony at a baitka held at Belle Vue Harel, at a time when there was general unrest on sugar estates and protests against working and living conditions.  A statue of her can be seen at the Aapravasi Ghat in Port Louis [former Immigration Depot] and was unveiled in May 1995.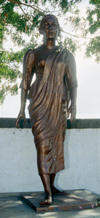 Her sacrifice has been immortalised by the Tamil poet Permal Soobrayen.
ANJALAY
The tears of the sons of Bharat
Like river flow
And shall not our hearts bleed
When alone you stood
In poverty and innocence.
Against those who thought to murder you
You stood;
And you fell!
Now let the world stand and say
Anjalay, beloved woman of Belle vue.
You are the symbol of sacrifice.
Ignorant of the Vedas and lofty thoughts
And in poverty you lived.
Yet, your heart was full of love and compassion!
At the sight of the wicked.
Against them you stood
To show us, helpless men.
Our duty,
And the meaning of fearlessness!
While in the country
Many a thing happened
The woman in you said
Woman, your place is at home
A man's mettle you possessed;
And you are propulsed into action
But,
To fall like the stag
At the hand of the hunter!
So you sacrificed your dear life
In the middle of a strife!
Unto this world
Where the arrogant,
The wicked and the mean
Suck the blood of the poor
You sought for a cove
Where peace prevails
At last,
In the pur hearts you settled
Of many a man of good deeds
Upon earth what wrong have you done
For man to subject you thus?
Bullets struck an dyou breathed out!
Many spoke of the hideous crime
Yet soldiers of fame who attained heaven.