Posted by
admin
on Feb 22, 2015 in
People
,
Politics
|
0 comments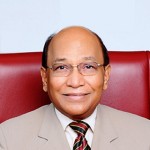 THE EX PRIME MINISTER & NOW THE EX GOVERNOR
OF THE BANK OF MAURITIUS ARRESTED!
IS THE WORLD TAKING NOTE?
Following on from the recent arrest of the ex Prime Minister of Mauritius Navin Ramgoolam, now the ex-governor of the Bank of Mauritius, Mr. Rundheersing Bheenick, has been arrested and charged with a number of crimes; including money laundering, 'larceny in receipt of wages', 'possession of stolen property', amongst other offences.
After the recent general election in December 2014, which saw the shock defeat of Navin Ramgoolam in the constituency his family have held since independence, the new government appointed a new governor for the Bank of Mauritius. The ex-governor was not very happy with the decision, and told the press how he felt about it. Very soon after, it is said that the police went to his residence and discovered 12 boxes of confidential documents belonging to the Bank of Mauritius, some of them 'top secret' documents; they also reportedly found one of the bank's safes that had disappeared from the Bank of Mauritius Tower building at the end of 2014. The "top secret" documents apparently contain "explosive" information relating to the financial transactions of a local conglomerate. The police also found Rs 1million in foreign currencies (euros, US dollars and pound sterling) at Bheenick's residence. This follows on from the raid carried out at the residences of Mr Ramgoolam, the ex-prime minister and ex-leader of the Labour Party. Two large safes, together with suitcases, full of money (rupees, euros, US dollars and pound sterling) were found at the ex-prime minister's residence. It took a while to count all the money and it said to amount to hundreds of millions of rupees. Many of the wads of cash found had the Bank of Mauritius seal on them. It is surprising – especially given the fact that Mauritius is an internationally well known tax haven –  that hitherto no foreign journalists have picked up on the story.
It is moreover known that many Mauritians are listed amongst the names of leaked account holders of HSBC Swiss bank accounts. The details have been in the hands of European newspaper editors among others for some time. Has any investigative journalist from Mauritius made any effort to find out more?! As we await the next chapter of this unsavoury saga we hope to see more foreign interest in this news story – it is high time that the world investigates more of what is going on in Mauritius which has hitherto escaped the type of scrutiny which our political class and the offshore industry no doubt merit.
©MauritiusMag