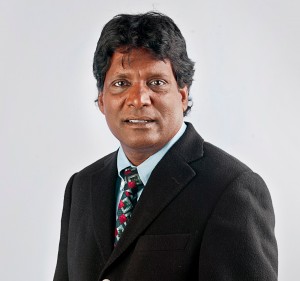 There is always hope for those who believe!
"He lifts the poor from the dust and the needy from the garbage dump. He sets them among princes, placing them in seats of honor." (1 Samuel 2:8)
Coming from a very poor background in suburban Beau Bassin – Rose-Hill, Mont Roches, no one could foresee that I could cross the Rubicon, rise against all odds and hardships and shine in a glorious way.
With a minimum of 'Cambridge School Certificate' in the seventies, in a context of high unemployment rate, the socio-economic environment was blurred with despair, pain and tears. So as to survive, I took a cheap factory job for a pittance of *Rs 5 a day in the freezone in Bonne Terre.
In Rose-Hill, a Pentecostal Christian encounter in April 1978 changed radically my perspectives, mindset, vision and dreams; success was knocking hard on the doors of opportunities. All was a question of deep faith, enthusiasm and determination. In 1976, I had the privilege of joining one of the most prestigious local advertising agencies, Publico, with a basic notion of art and graphic design. The start was tough and I could hardly make it, and as a second chance, I was shifted to the Sales department. This daring new avenue was also paved with uncertainties, having not an iota of expertise and qualifications in Marketing and Sales coupled with a very shy, introverted and timid personality. I climbed the ladder in some months and managed ½ of the Sales billings of the company. I hold this post for 11 and ½ years and was at the forefront of the company.  Grace was flourishing. At the same time, I acted as a freelance journalist in L'Express daily for Art and Culture section. This continued for 10 years. (1977-1987)
By an act of faith, I started Logos Publicity, a full-fledged advertising agency in November 1987, without adequate financial resources.  After 27 years of existence, Logos now ranks itself among the most prominent and stable advertising and communication agencies of the island. The future sounds promising and bright with a dedicated young team and a common ambitious vision.
Mauritius has now a fertile soil for those who dare to go against rough tides and fight to reach the unreachable. In this positive approach with perseverance and faith, we continue to pave our way forward.                               .
* Mauritian Rupees (Rs) – less than a quarter of a USD
—————————————————————————————————————————
Il y a toujours de l'espoir pour ceux qui persistent à croire!
« De la poussière il retire le pauvre, Du fumier il relève l'indigent, Pour les faire asseoir avec les grands. Et il leur donne en partage un trône de gloire ; » (1 Samuel 2:8)
Issu d'un milieu très pauvre, des faubourgs de Beau Bassin – Rose-Hill, plus précisément de Mont-Roches, nul n'aurait pu imaginer  que je parviendrai à franchir le Rubicon, à me relever, contre vents et marées et à surmonter les épreuves envers et contre tout.
Dans les années 70, avec pour tout bagage un certificat du 'Cambridge School Certificate', en pleine crise de chômage élevé, je baignais dans un  paysage socio-économique ravagé  par le désespoir, la souffrance et les larmes.  Afin de survivre, j'ai trouvé un emploi dans une usine de la zone franche à Bonne Terre pour un salaire de misère de *5 roupies la journée.
En avril 1978 à Rose-Hill, une rencontre chrétienne pentecôtiste changea de manière radicale mes perspectives, mon état d'esprit,  ma vision et les rêves irréalisables ; le succès frappait à ma porte, trop longtemps restée verrouillée. C'était avant tout une question de foi profonde, d'enthousiasme et de détermination. J'ai eu, en 1976, le privilège de me joindre à l'une des agences de publicité  les plus prestigieuses du pays, Publico, avec une notion de base d'art et de graphisme. Mes débuts à l'agence étaient  très durs, et j'avais vraiment des difficultés à m'en sortir  et, comme dernier recours, je fus transféré au département des ventes. Ce nouveau défi était pavé  d'incertitudes, n'ayant pas la moindre connaissance ni les qualifications requises en Marketing et en vente et possédant une personnalité très timide, introvertie, voire effacée. J'ai pu, avec beaucoup de persévérance, gravir les échelons en quelques mois et détenir 50 % du chiffre d'affaire de vente de la société. J'ai gardé ce poste durant 11 ans et demi et occupais une place importante. C'était le commencement d'une nouvelle voie, comblée de grâce  et de réussite. Je travaillais parallèlement en temps que journaliste pigiste pour le quotidien L'Express,  pour les pages Culture, arts et musique. Cela a duré 10 ans (1977-1987).
Par un acte de foi j'ai lancé Logos Publicity, une agence de publicité intégrée, en novembre 1987 sans les ressources financières adéquates. Après 27 ans d'existence, Logos figure aujourd'hui parmi les agences de publicité et de communication les plus en vue de l'île. L'avenir s'annonce  prometteur soutenu par une jeune équipe dévouée et partageant une vision ambitieuse commune.
Maurice  regorge maintenant d'une multitude de possibilités pour ceux qui osent lutter contre les préjugés et autres tares, et qui sont prêts à se battre afin d'atteindre des idéaux. Dans cette lignée, nous continuons notre route avec foi et persévérance.
* Roupies mauriciennes (Rs) – moins d'un quart d'un USD.
—————————————————————————————————————————
Ena touzour enn lizour pou séki foncé ek ki kontigne krwar !
« De la poussière il retire le pauvre, Du fumier il relève l'indigent, Pour les faire asseoir avec les grands. Et il leur donne en partage un trône de gloire ; » (1 Samuel 2 :8)
Baz kot mo ti pé resté dan Mont Roches – fobour Beau-Bassin – Rose Hill : ti paret inposib pou ki mo arrive kot mo été zordi ek manz avek enn lavi margoz. Lavénir ti telma som.
Dan bann lané 70 somaz ti kronik. Lavi dan Moris ti pénib. Simé pou enn meyer lavi ti bloké partou. Avek  zis enn S.C, ti oblizé travay pou 5roupi la zourné dan enn lizinn zonnfrans  Bonne Terre zis pou débat.
Avril 1976, dan enn réinion 'Mission Salut et Guérison' dan Rose-Hill, mo lavi enn sel kou baskilé par lapriyer. Enn lot lespwar paret divan, enn sel kou tou sanzé. Lavi montré so lot face. La foi dan lévanzil Zézi, ékler mo lespri et ouver laport ki ti kadnasé. Mem lané mo réssi rant dan enn lazens piblisité – Publico, kouma désinater. Ti bien dir, pou pa met moi déor zot transfer moi dan relasion kliyan. La ossi ti bien difisil parski péna konésans ek lexpérians ek ti mari timid ek konplexé. Avec kouraz, volonté ek lapriyer, mo arriv ziska kontrol 50% kliyantel lazens. Enn véritab mirak. Enn nouvo lespwar renet. Monn res dan sa job là pandan 11 zan edmi. En mem temps mo kolabor dan l'Express lor zafer lamizik, lar ek kiltir pendan 10 ans (1977 – 1987).
Par lafoi monn lans Logos Publicity Limited en novam 1987 avek zis mo dernié saler. Zordi, apré 27 an, Logos parmi bann meyer lazens piblisité dan Moris. Nou krwar dan lavenir ek ensam avek enn zoli lékip dévwé, nou fonsé.
Zordi dan Moris, éna simé pou séki envi avansé dan lavi profesionel, pou séki ozé fonsé, travers bann baraz ek afront lavi.
Sé avek boukou lafoi ek persévérans ki nou pé kontigne nou larout.