Posted by
admin
on Oct 7, 2011 in
People
|
0 comments
Is Paul Lemiere the real owner of the Chagos archipelago?!
Paul Lemiere is one of the heirs of Joseph Hippolyte Le Miere, the jouissance holder and later the rightful owner of virtually all of the outer islands of Chagos according to a contract signed by a former Governor of Mauritius, Sir Henry Barclay in the name of the then late British Sovereign Queen Victoria. The documents – an extract of that assigning Eagle Island to his ownership is pictured below – states that the islands were given IN PERPETUITY to Lemiere and to his heirs.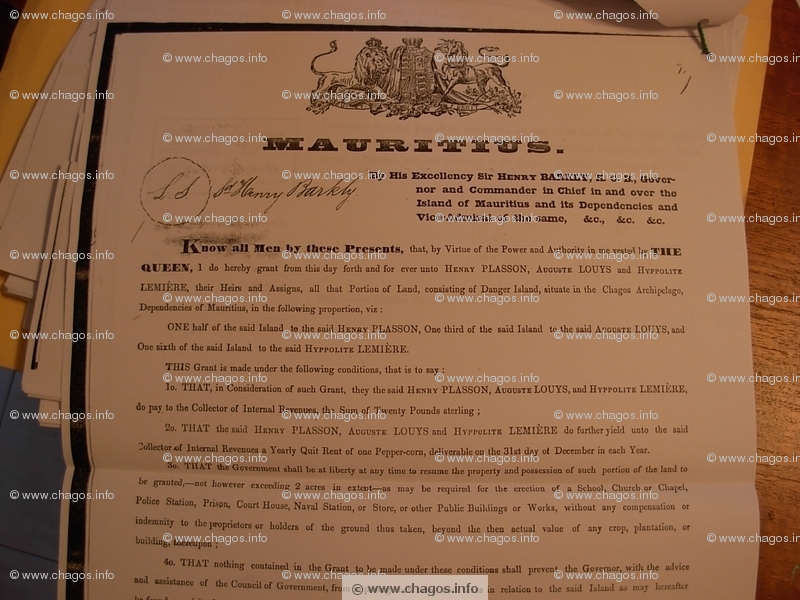 Joseph Hippolyte Le Miere was a successful trader of Euro-African descent who was also active in local politics. Born on 24 June1817 the son of Francois Le Miere and Lolotte Pancique he was a self made man active in the Mauritian chambers of agriculture and commerce. He became mayor of Port Louis in 1857 and and served in that post again in 1863-4. He married Marie Olivia Chaillet and died in 1885.
Involved in the sale to Europe of coconut oil extracted from the Chagos copra plantations, it was natural that Le Miere should seek to gain a concession, known as a jouissance of some of the islands of the Chagos archipelago. At the time of his death he was the registered owner of the outer islands Sea Cow, Danger, Eagle, Salomon, and Three Brothers and owned shares in coconut plantations including those on Diego Garcia. In 1863 he and other jouissance holders had asked the colonial government to convert their deeds into 'titles in perpetuity'. Hyppolite was, with Plasson and Louys, the leading personality in seeking a 'new deal' for the jouissance holders and in obtaining holdings in virtually all the Chagos islands. His signature heads the list of those who addressed a 'memorial' (petition) to the Secretary of State in London. After three years of negotiations, Governor Barkly issued a proclamation, acceding to the request and setting a price for purchase.
In the 1880s, the owners of these titles, and shares amalgamated their holdings into companies, both public and private, and by the early 20th century, shares were being bought and sold on the open market.
© M. Carter & P. Lemiere, 2011.