Posted by
admin
on Mar 2, 2011 in
Book Shop
|
0 comments
BOOK REVIEW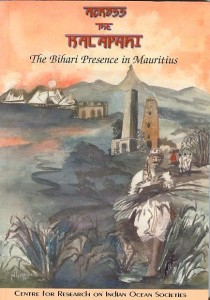 Across the Kalapani
The Bihari Presence in Mauritius
by
Clare Anderson, Sarita Boodhoo,
Marina Carter, Saloni Deerpalsingh,
Amenah Jahangeer-Chojoo and V. Govinden
CRIOS, Mauritius, 2000
A large number of Mauritians of Indian origin are originally from the state of Bihar in northern India. This volume, beautifully illustrated by Indo-Mauritian artist Neermala Luckeenarain, tells the story of migration from India to Mauritius, paying special attention to the populous state of Bihar. The journey to the port, the voyage across the kalapani, settlement on Mauritius and the cultural renaissance of the overseas Indians are detailed in the volume.
The book analyses the roots of Bihari migration from the 19th century to the present day and
depicts the uprooting and resettlement of the thousands of men, women and children who made their new home on the island. The blossoming of Bihari traditions in Mauritius is discussed alongside the restructuring and transformations in identity which crossing the kalapani has entailed. Prose, poetry and art are brought together in the volume to recreate scenes and events of Bihari history in Mauritius and to evoke the dramas of exile and settlement.
Following a two hundred year cycle of ethnic regroupment and fracturing on the island, creating a present-day situation in which numerical imbalances are checked by in-group divisiveness, the Biharis have become crucial power-brokers in this multi-ethnic state and  the linch-pin of the Mauritian polity. Every Prime Minister since Independence has been recruited from the ethnic group whose descendants arrived from this state. The Biharis in Mauritius today do not form a cohesive unit, spread as they are into various religious groups, with differing levels of attachment to their ancestral origins, but the numerical preponderance of immigrants from this populous Indian state ensures that their descendants will continue to play an important in the life of the island.
Across the Kalapani brings together academics, activists and artists in a unique exploration of the overseas Biharis. The illustrations, poems and archival sources which have been used in the book provide a new dimension to the story of the Bihari presence in Mauritius.
ORDER THIS BOOK NOW! Across The Kalapani: £3.50 plus shipping


————————————————————————————————————————————————