Posted by
admin
on Jul 26, 2015 in
Arts & Culture
|
0 comments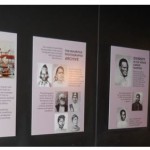 LABOUR MIGRATION TO MAURITIUS:
An Exhibition at Marcel & Son, Artworks, Elephant & Castle

Indentured Labour
Around half a million indentured immigrants arrived in Mauritius between 1834 and 1910 to work in the island's sugar economy.  Their labour turned Mauritius into the British Empire's premier sugar producer and transformed the demography of the island.
The term indenture refers to a written contract entered into by labourers. An indentured migrant was an individual who had not paid his or her own passage, but had entered into an agreement to receive assisted transportation to a colony in return for a fixed period of labour.
Indenture has been associated with involuntary forms of migration because the terms of the contract did not allow signatories to benefit from subsequent rises in the value of their labour, and provided for penal sanctions in the event of non-compliance. This effectively meant that unauthorised absence from labour could be punished with terms of imprisonment. Despite these onerous conditions many indentured labourers prospered, purchased land and settled in the sugar colonies or returned to India.
The Mauritius Photographic Archive
As a means of control, the 19th century immigrant workforce was furnished with identification – a ticket – and it became a common practice to photograph new arrivals, or persons requiring replacement tickets, and other civil status documents. By such means, the Immigration Office in Mauritius created what is today recognised as a unique archival record, comprising around a quarter of a million portrait photographs, all taken between 1860 and 1920. This photographic collection of subaltern labour migrants, mostly from the subcontinent of India is a magnificent resource for students as well as descendants of the Colonial Indian Labour Diaspora.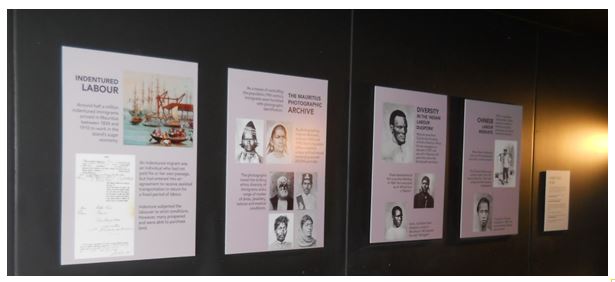 A 4 panel exhibition, 'Labour Migration to Mauritius', is currently being hosted by Marcel & Sons, a show room and exhibition space that also serves freshly cooked Mauritian comfort food. Andy and Randy aim to provide a platform for creative individuals to test out new products and inventions and to launch their own micro-businesses. Alongside this showroom, they also aim to share their own unique culture and cuisine with local residents in Southwark and the wider London area.
YOUR STORY
This poster exhibition was curated by historians Marina Carter and Rosalind Parr who are associated with an ongoing research project at the Universities of Leeds and Edinburgh.  Do you have a family migration story to share?  If so please email Marina.Carter@ed.ac.uk or  contact us at our Facebook page 'Global South Asians' www.facebook.com/globalsouthasians
©MMag