World War 1 centenary tribute to the Anderson and Blackburn family ancestry of Mauritius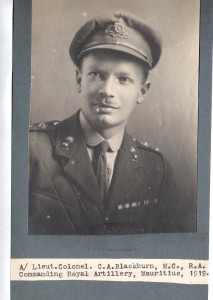 World War 1, known as the Great War, officially commenced on 28 July 1914 and lasted four years until 11 November 1918. The United Kingdom entered the Great War on 4 August 1914, which in turn implicated all British Allied Nations, of which Mauritius was one of the Indian Ocean islands to show allegiance.
According to Daniel Elie Anderson in his book, The Epidemics of Mauritius (published in 1918):
"Most of the Mauritian families have sons fighting on the different battlefields of the present war; some of them have already laid down their lives for king and mother-county, and not a few have won the V.C. and the M.C., amongst these are Lieutenant Cyril Anderson-Blackburn, Mayer, Finniss, and Kenneth Paddle."
James Samuel Cyril Anderson Blackburn was born in 1893 in Beau Bassin; his elder brother, Reverend Charles Eliel Anderson Blackburn, became a celebrated clergyman in Mauritius. Both were sons of Charles Augustus Blackburn (also a clergyman) and Mary Maria (nee Anderson).
The Anderson and Blackburn Mauritian heritage stretches back over 200 years to the arrival in the early 1800s of John Anderson, the father of Mary and William George Blackburn (who later became the father of Charles Blackburn mentioned above).
John Anderson was the Principal of the Normal School, which became the foundation to all Mauritian Government Schools, and he also co-established the Church of Scotland; whereas William Blackburn was a Missionary and co-founder of the local Church of England.
It has been recorded that the majority of current Mauritian families bearing these surnames, particularly the Blackburns, of which there are many, are both descendants of the above.
This Great War tribute is founded upon the family memory of Cyril Anderson Blackburn, who was awarded the British Military Cross for gallantry in France. Not only did Cyril do his country of birth proud, but also in 1918, after recovering from wounds suffered in Flanders, he was dispatched as Acting Lieutenant Colonel commanding the Royal Artillery in the seaward defence of Mauritius. He continued in this position until after the Amnesty.  In the early 1920s, Cyril established himself as a dairy farmer in the British Colony of the Union of South Africa, where he died in 1956.
We share this tribute to all relatives of the Blackburn and Anderson families, who have memories of their fathers or grand-fathers who fought in the Great War of 1914-1918.
James McIldowie Anderson Blackburn
July 2014, South Africa